As a single supplier, we can provide you with both Telephony and IT solutions.
Get in touch to see how we can help you with VOIP!
VOIP Phone Systems For Business
With the convergence of technology, we can provide you with both telephony and IT solutions, allowing you to simplify the management of your systems and streamline the number of suppliers in your business. We can help you identify cost savings and reduce your total cost of ownership for both fixed and mobile telephony.
From standard functionality that includes call forwarding, routing and recording through to contact centre, unified messaging and collaboration, we can provide a full-featured solution.
Through a web portal, you can easily configure and manage the system to suit the changing requirements of the business.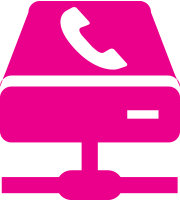 Phone systems that are both cost efficient and scalable
VOIP (Voice Over IP) technology enable businesses to keep their costs down and not simply through the lower installation costs associated with VOIP phone system hardware. Many of our customers are just as interested in the savings they make on calls when using VOIP for business.
VOIP's scalability ensures that you have the infrastructure you need, when you need it and are not overpaying for hardware that you are not using.
Scalability is achieved through the internet and cloud-based architecture that these new systems are built around. So as employee numbers grow and fall, you can scale your telephony solution to meet demand and only pay for what you need, when you need it.
VOIP also has great benefits for those who travel widely and want to remain connected to the office network. Empower employees to work collaboratively both inside and outside the organisation to drive efficiency and excellence in customer care.
For further details on how we can help you design your VOIP system, please contact us.