Why wait for things to go wrong, rather get IT Support?
We pro-actively resolve issues before users are even aware something is wrong.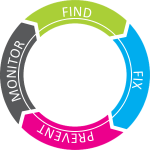 We find, fix, prevent and monitor to maximise IT performance and ensure that users are consistently productive and empowered to deliver a high level of customer service.
Return on IT investment is only released if systems and users are fully functional, all the time. We provide 24-hour support, outsourcing and bespoke managed services to allow you to take IT for granted, everyday. We often fix in minutes something that may take a less experienced person all day to resolve
Outsourcing IT For Small Businesses
Employing us as your professional IT department allows you to keep your IT system working at its peak efficiency without the additional overhead costs of an extra member of staff. We monitor our customers systems and fix many issues before they start to affect their business. Down time is costly and cost of doing nothing is only realised in face of disaster.
Our qualified technicians have many years experience working with all types of businesses and their IT systems.
We are well placed to deal with all sizes of networks from small businesses to those involving up to hundreds of units. We maintain excellent relations with our customers through close contact and support. Our rates are competitive and realistic, aimed specifically at businesses like yours.
Work with us. Trust us. Let us do the hard work.
Outsourcing your IT and computer support is an efficient use of your money and resources. We keep your computer system working at its best and are there to answer questions when needed.
We provide friendly and effective support to users and super-users whenever and wherever they need it. Going to great lengths to ensure they are fully functional and full productivity can be achieved.
We will manage your Workstations, Laptops, Servers, Software/Applications, Printers, Backup systems, Network Security, and Wi-Fi Access Points. Comprehensive support for any other vital technology you may use.
We will keep your servers operating at an optimum level with all up to date patching to ensure that your business. Checking that the applications and systems your business needs to operate, all day, every day in in place. If you don't have a server or you maybe looking to move to the Cloud.  We can advise on when we think it will be appropriate for you to invest in your network.
Providing 24x7x365 monitoring of all endpoints and network assets. We will support your network infrastructure with the skills and techniques that we have learnt from working with multiple environments. Applying our experience from working with systems which range from many different degrees of complexity. We install and support IT networks from the simplest computer architecture to more complex multiple server/client systems.
When thing's are not going right or In an emergency, one of our friendly engineers will come to visit you on-site to investigate the issue, they will fix whatever computer, server or network problem/s that you may be experiencing.
You can share resources around your business or between offices, enabling you to work smarter and more effectively. You won't have to worry about finding someone to install the cabling either, because we handle this for you as part of the project.
Go Wireless around the office
If you prefer a wireless office, IGC can provide professional Business Wi-Fi solutions for small to mid-sized businesses ensuring full coverage, network security, guest logins & traffic management.
We'll review your IT infrastructure and machine performance periodically, advising you on when we think it would be appropriate for you to invest in your IT networks for the future.
For a fixed monthly fee, you can be confident knowing your IT systems are being monitored and managed optimally.
Reducing costs involved in supporting your network whilst your staff continue to receive the support they need, when they need it.